SCIENCE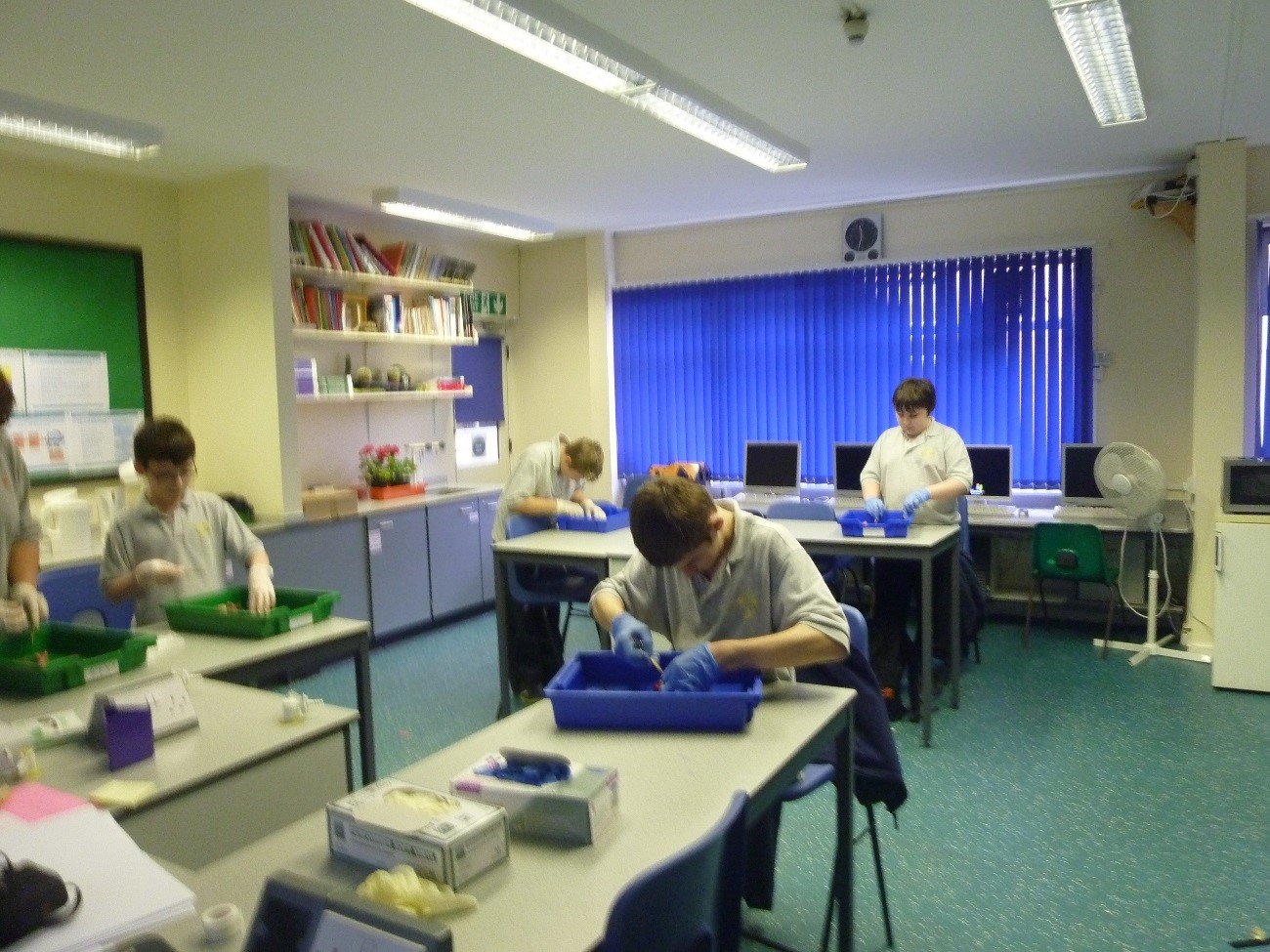 Our vision is to ensure that all of our students reach their full potential and strive to achieve more than they ever thought possible. We want our students to ask questions about the world around them and to be inquisitive and try to solve problems independently.
In science students are taught in a purpose built fully equipped science laboratory, which has a projector, interactive whiteboard, a fully equipped preparation room and all the latest text books and science educational software. We have sufficient computers in the laboratory for each student and access to a large poly-tunnel and extensive school fields and woods for practical lessons.
The science team values the progress of every child. The science curriculum stimulates students to find out more about the world they live in and gives them the opportunity to try and learn about all aspects of science.
Foundation
In years 6,7 and 8, students follow a modular curriculum which has elements of biology, chemistry and physics. This enables students have the necessary knowledge of individual concepts and provides the support to allow students to apply their knowledge to unfamiliar context. Using the big ideas principle, the generalisations, principles and models which connect concepts are at the heart of the syllabus. We believe this is how students learn to see the world analytically, to explain phenomena and make predictions – all skills they need for their next stage of scientific learning.
Overview 0f KS3 Science Syllabus
Part 1 Year 7/8

Part 2 Year 8/9

Forces

Speed

Gravity

Contact forces

Pressure

Electromagnetics

Voltage and resistance

Current

Electromagnetics

Magnetism

Energy

Energy costs

Energy transfer

Work

Heating and cooling

Waves

Sound

Light

Wave effects

Wave properties

Matter

Particle model

Separating mixtures

Periodic table

Elements

Reactions

Metals and non-metals

Acids and alkalis

Chemical energy

Types of reaction

Earth

Earth structure

Universe

Climate

Earth resources

Organisms

Movement

Cells

Breathing

Digestion

Ecosystem

Interdependence

Plant reproduction

Respiration

Photosynthesis

Genes

variation

Human reproduction

Evolution

Inheritance
Key Stage 4
Year 10 and 11 students study GCSE Combined Science. This double award is equivalent to two GCSE's and covers the three science disciplines in the traditional fashion, much like the current Core and Additional Science GCSE's. Combined Science: Trilogy takes a logical and coherent journey through the familiar and new content. Practical lessons are one of the most engaging parts of a science education but are also essential for students' understanding of scientific theory. There are 16 required practicals.
Summary of content
Biology
Cell biology

Organisation

Infection and response

Bioenergetics

Homeostasis and response

Inheritance, variation and evolution

Ecology
Chemistry
Atomic structure and the periodic table

Bonding, structure and the properties of matter

Quantitative chemistry

Chemical changes

Energy changes

The rate and extent of chemical change

Chemical analysis

Chemistry of the atmosphere

Using resources
Physics
Forces

Energy

Waves

Electricity

Magnetism and electromagnetism

Particle model of matter

Atomic structure
The examination consists of six papers: two biology, two chemistry and two physics. Each will assess different topics. Each of the papers is 1 hour 15 minutes, there is no coursework requirement.
To ensure that all students have access to a science GCSE some students take a single science GCSE Biology, which has two 90 minute exams.
All students are also entered for Entry Level Core Science.